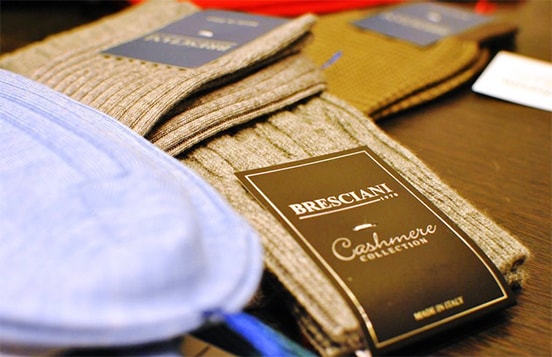 When we talk about cashmere socks, it's impossible to not mention Bresciani, the Italian brand for high-end, luxurious socks.
The Hisotry of Bresciani
The person behind Bresciani 1970 is Mario Bresciani. His love for socks inspired him to start his own company back in 1970 in Mantova, Italy.
Prior to this, Mario has worked in other manufacturers of socks, and accumulated considerable experience in this field.
Perhaps that is why it quickly led to the production of high-quality socks and achieve success first in Italy and then in many other countries around the world.
Initially, the company was called Mario Bresciani S.N.C, but in 1980 the name was changed to Calzificio M Bresciani S.R.L. (the Italian equivalent of an LLC), which persists to this day.
Since 1980, Bresciani began active development of contacts with various firms, shops, and brands.
They have been producing socks for well-known department store Bergdorf Goodman, brand Canali (2007) and others. Recently, Bresciani started to make socks for Berg & Berg.
---
Related Reading – 10 Best Cashmere Brands That Will Give Your Wardrobe A Luxurious Twist
---
In the 1990s and 2000s the company Bresciani has established a wide distribution network.
Today, this brand can be bought in the countries of North and South America, Africa, Europe, the Middle and Far East.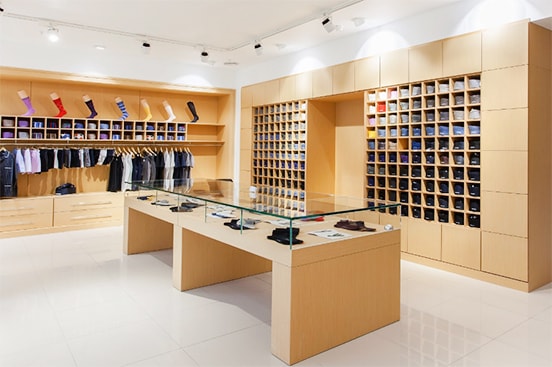 Interestingly, for a long time Bresciani specialized exclusively in men's socks. At the beginning, it was only the model over-the-calf.
In the 1980s, with access to international markets, it has launched a line of short socks (crew dress socks), and in 2007, Bresciani finally launched and a line of women's socks.
Today, the company is still family-run and operated by Mario Bresciani and his two sons – Massimiliano and Fabio.
Cashmere Socks Collection
Bresciani produces super-soft socks made of the fines selection of natural yarns, silk, cashmere, wool, cotton, and linen.
Here, we want to emphasize their cashmere socks made of finest and natural cashmere yarns.
Cashmere Argyle Harlequin-Diamond Over-the-Calf Socks
A truly noble, over-the-calf sock, which will offer wonderful warmth on those chilly days.
Sizes
Small 6.5-8
Medium 8.5-10.5
Large 11-12.5
Made of 100% cashmere by traditional Italian craftsmen.
Bresciani Men's 100% Pure Cashmere Over-the-Calf Dress Socks
Do you remember Alec Baldwin and Jason Schwartzman Day After Commercial for Amazon Echo?
In the half-a-minute video, Alec asks Alexa to reorder a new pair of these Bresciani socks.
The finest of Pure Cashmere in a spectacular over-the-calf dress sock.
These are made of 100% luxury cashmere.
Bresciani 100% Cashmere Crew Dress Socks
This is a pure luxury sock featuring the finest "feel" possible.
It's the short version of Alec Baldwin's now-famous Super Bowl socks.
Extremely rare, Bresciani 100% pure cashmere mid-calf socks available in black, navy, brown, charcoal, winter white, blue denim, regal red, and flannel grey.
Ultimate, Incomparable, Exclusive, Absolutely Pure 100% Cashmere Leggings – RARE!

As we said, in 2007 the brand finally launched a line of women's cashmere socks. Here, we feature the cashmere leggings for women, which are fashionable and warm accompaniment for short skirts and dresses, shoes or boots.
Super-soft and warm piece of cloth for those chilly fall-winter days.
Sizes
S/M Fits U.S. Women's Sizes 0-6;
L/XL Fits U.S. Women's Sizes 8-14
Final Words
There is one thing about Bresciani. That is you can't go back on regular socks after you start wearing Bresciani cashmere socks.
Enjoy the luxury of Bresciani and subscribe below to get more article like this.
Want to Know Even More About Cashmere?
Get the latest cashmere trends, news, and best deals on your email.