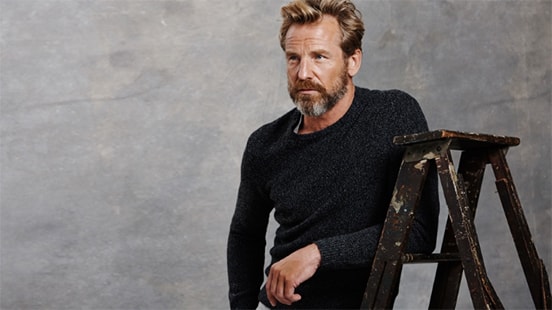 Last Update October 21, 2016 Sweaters for men made of cashmere wool are often overlooked as a clothing choice.
The fit is usually one of extreme comfort, and the fact that men's cashmere sweaters are made from cashmere material makes them light and extremely soft.
There are several reasons why cashmere has become extremely popular over the decades.

First of all, the material is light enough that the sweater can be worn under a light jacket.
Secondly, cashmere is quite a warming material that can keep a man very warm on even the coldest winter day. It is a thin fabric with great insulation properties. The soft and dense material can keep users warm even when it is -40 °C although it is only a few millimeters thick.
Many wives have purchased fashioned cashmere sweaters for their husbands and their husbands have certainly appreciated the gift.
In fact, the cashmere sweater that a man receives for a gift is often loved as a favorite item for many years.
Of course, mens cashmere sweaters are extremely durable, making them an item that will last for years to come.
The sweater is thin enough to take up very little closet space in a shared closet, meaning that the item can be safely tucked away in any small closet area between uses without needing a great deal of space.
As a comparison, a thick wool sweater needs the same amount of room as about 8 cashmere sweaters.
Mens cashmere sweaters styles
If a person already has a favorite style, they tend to carry that style through different types of sweater materials, including cashmere.
There are turtlenecks (which can be uncomfortable if a man does not like to wear things around the neck area), v-necks, crew-necks, vests and cardigans.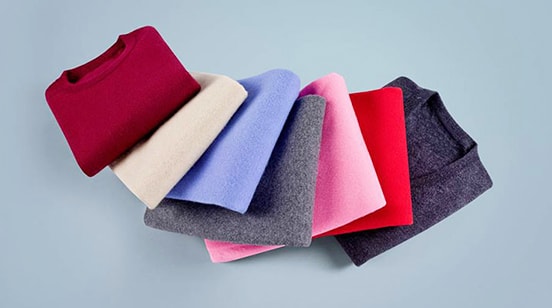 These basic styles tend to be worn by many men and for different types of occasions.
The best part of these styles is that they are timeless and continue to be worn over many years.
This is a good thing when it comes to cashmere sweaters, because they are an extremely expensive item.
Sometimes people find that they really like a particular material, and if cashmere is one of those materials that is loved by your husband or boyfriend, then a cashmere sweater is a natural choice for a gift.
It is important to know his size before you start shopping, some stores have different sizing that is smaller than normal sizes or larger, it is up to you to decide what is the best fit.
You could, of course, provide a gift receipt when you give a gift of clothing, this way the recipient will be able to exchange the item for a different size if the one you have given is not the correct one.
There is really no reason to worry when you decide to give cashmere, because it is one of those items that is loved by anyone who receives it.
You can rest assured that the item will be cherished and worn for many years to come, so the price that you pay for the sweater is definitely worth it when it comes to the long lasting durability of the item.
Mens cashmere sweaters can be one of the best purchases you have ever made, so don't doubt yourself if this is what you decide to do.
Let's see some of the best cashmere sweaters for men available online by some of the best cashmere brands.
Cashmere Crew Neck Pullover Sweater – Diamond Stripe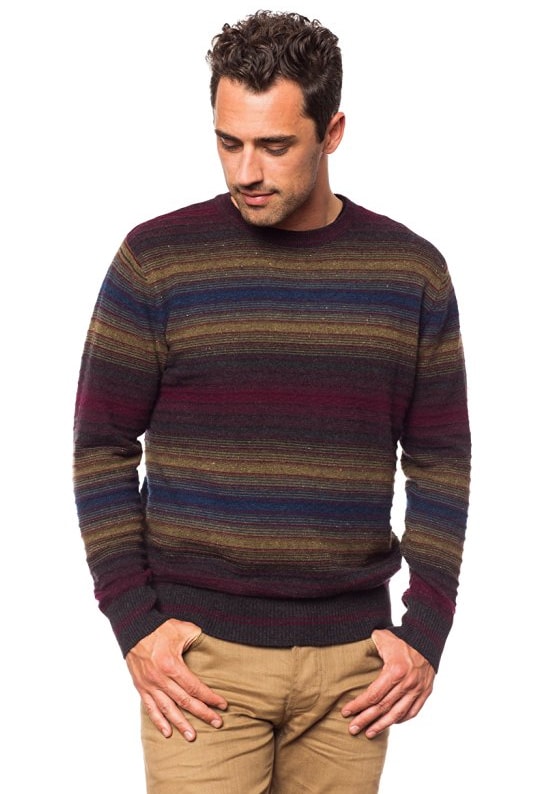 Light and breathable cashmere sweater with colored strips, highlighted by subtle diamonds woven into the solid band across the chest.
Men's Pure Cashmere Polo Sweater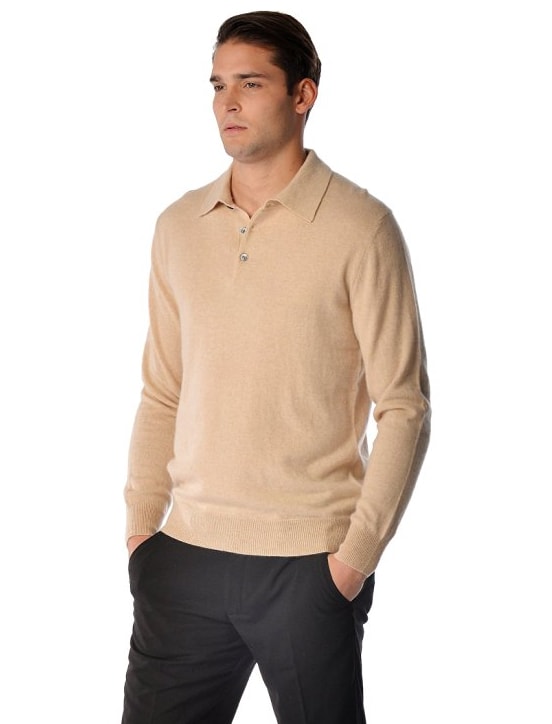 Luxurious, soft, and warm polo sweater made from the finest grade of cashmere and sold by Cashmere Boutique.
Crew Neck Cashmere Sweater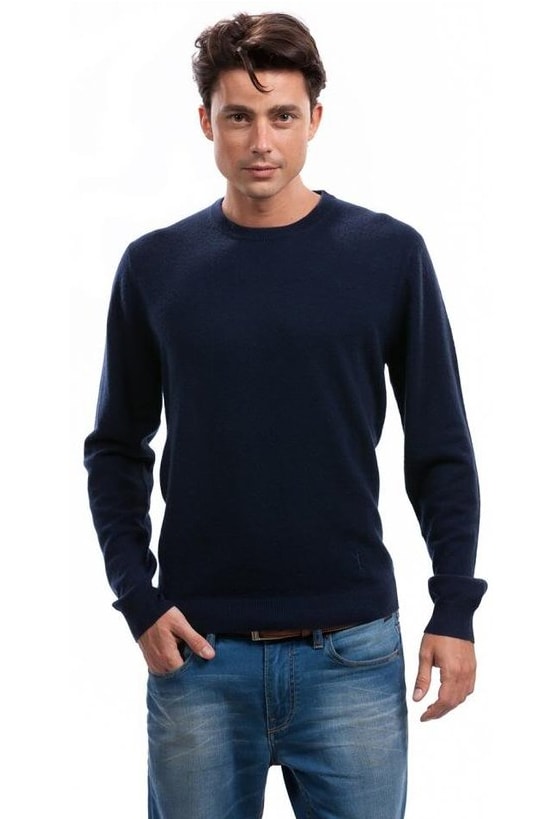 Made from 2-ply 100% Cashmere, crew neck sweater is perfect for layering.
Classic crew-neck go with every outfit & every occasion. This sweater is navy blue, but if you prefer red or light blue, just head to Amazon's page.
Mens Cashmere Mock Turtleneck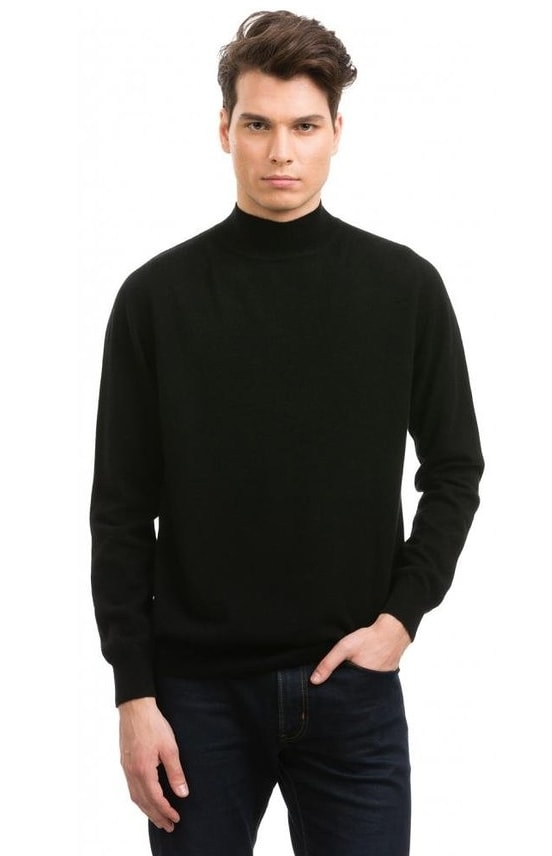 This model is inspired by Steve Job's Iconic Mock Turtleneck Sweater.
Now Citizen Cashmere has taken Steve's iconic sweater and translated it into plush cozy cashmere perfect for the rebel genius inside of you.
Intarsia Argyle V-Neck Cashmere Sweater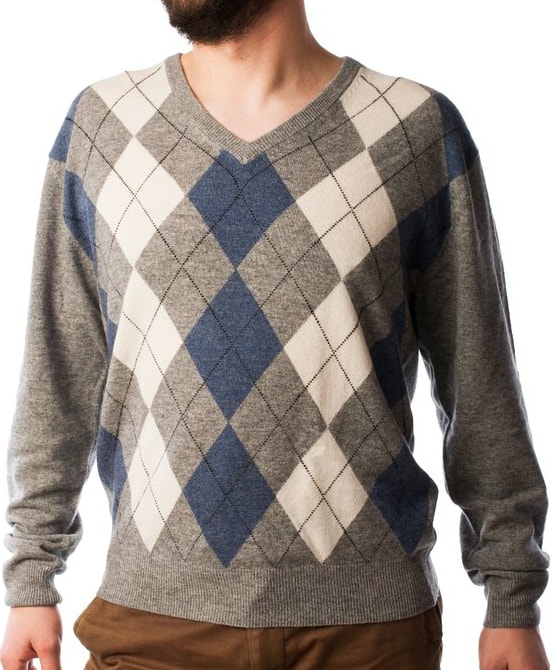 This scotish cashmere sweater is made of the finest grade A cashmere yarn.
An argyle style guarantees a unique and eye catching look, while the fashionable V-neck design makes it ideal for semi-formal meetings.
Green Cashmere Crewneck Sweater
This crewneck model by JENNIE LIU comes in a range of five new shades: Black, Brown, Charcoal, Gray, and Green.
Here we feature the green, 2 Ply pure cashmere sweater, which is ideal for casual and relaxed occasions, yet warm enough to wear around the home too.
Do you have any favorite?
Say a word below.
Want to Know Even More About Cashmere?
Get the latest cashmere trends, news, and best deals on your email.