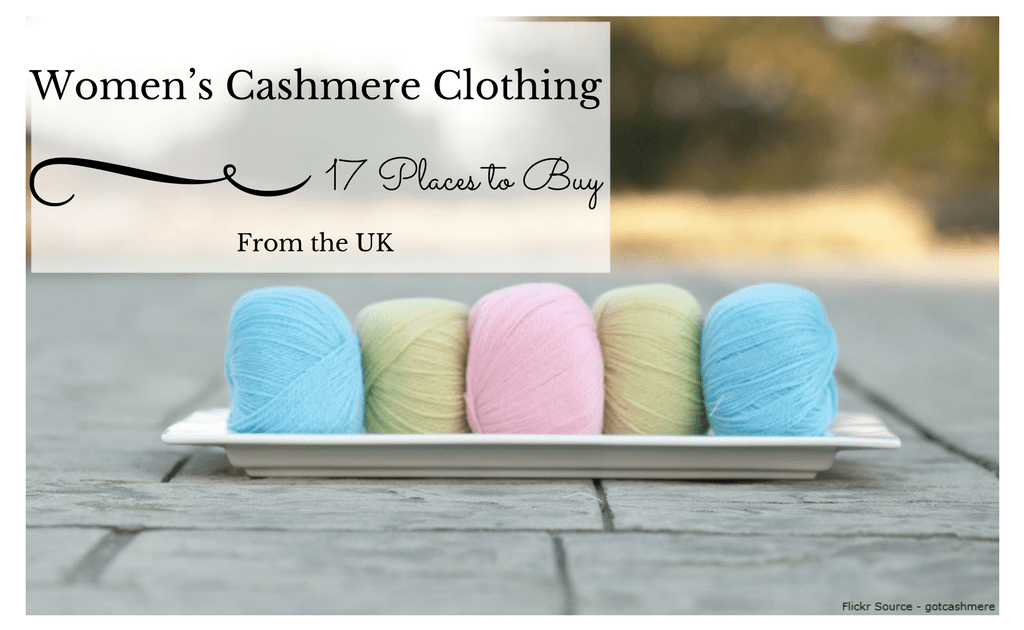 Cashmere garments are made of cashmere wool obtained from the cashmere goats.
This particular fiber is very different from the regular sheep's wool.
Cashmere's fiber is excellent in texture, quality, strong, soft and light. A garment made from the cashmere wool provides more insulation that is three times of sheep's wool.
Cashmere wool is high quality fiber and to make a single sweater it will take two or three goats. Limited production and excellent quality of texture makes it little bit costly.
A garment made of 100% cashmere wool is enough to insulate from the cold temperature.
The production and trading of cashmere garment exits in the Mongolian Empire in the 13th century. The high quality product is no doubt worth of its price.
Here you will find 17 best stores in the UK to buy women's cashmere clothing.
This brilliantly knitted jumper is for your little ones.
They will look charming and amazingly elegant in this red jumper having classic check patterns with the navy shades.
The stylish and crew neck knitted from the fine quality of wool will keep them snug and warm during day and night.
This jumper has ribbed trims and it is wearable with everything, especially a dark jeans and shirt will give them a sophisticated look.
Elegantly crafted, these gloves have classic design with button style that enough to keep you fashion forward always.
Available in four brilliant colors, the women's cashmere gloves will complete your look.
You don't have to combine it with your outfits; it will look gorgeous on your hands and will go easily with anything.
Extra soft and stretchable fiber gives you superior comfort and warmth.
You can find these gloves on Amazon – one of the best stores in the UK and worldwide to buy cashmere.
This cashmere poncho is knitted with the finest Scottish cashmere fiber that ensures superior warmth and softness.
Usually, ponchos are designed it can slipped over your neck.
Having V-neck drapes also covers shoulders to give sleek and perfect layering for day and night both looks.
This uniquely designed poncho can easily go with everything to give a complete look.
Try cashmere slippers if you have not tried them before.
These slippers are crafted with cashmere fiber. Super cozy!
Take it to your bedrooms or bed; it will give you extra insulation and warmth while working at home.
These slippers definitely will be a cozy choice for lounging at day or night at your home.
Adorned with Swarovski crystals, these pair of slippers look really elegant.
Cashmere blankets are soft, cozy and comfortable.
If you want to give a gift, this cashmere blankets could be the better option for you.
Lovingly woven this cashmere blanket provides you smooth feel.
This blanket is made with mix fibers including pure wool and cashmere.
This blanket has fringed edge finishing with the superior quality of fiber ideal for outdoor and indoor use.
Without a quality hat it will be difficult for you to complete your winter look.
You always look for nice piece of garment to project your ears and head during winters.
I have suggested here a pure 100% cashmere hat which will surely add opulent finish to any winter outfit.
This hat is crafted with pure cashmere fiber and with ribbed design in its band, and it will be your favorite in cold.
This cashmere jogger will bring opulent to your casual look.
Made from pure cashmere fiber enough to provide to extra warmth and are incredibly cozy and soft.
The casual design of this jogger gives a chick twist to its opulent update on classic.
Just wear a tee or trainers with it and enhance your appearance.
You can look for cashmere garments on many shopping websites of the UK, and H&M is another name in this list.
You can find many options for cashmere garments here.
The particular product I have suggested in this list is of premium quality.
This jumper is soft knitted with cashmere blend having V-neck with long sleeves.
It is made with high quality of wool and cashmere.
You will surely need a pair of socks during chilly days, and what could be better than a pair of soft socks that can gives feel like cushions between your feet.
These super soft and cozy socks keep your feet warmer.
The socks are knitted with extra soft fiber that can maintain moisture, skin friendly and control temperature.
This Linea cashmere ankle socks are light weight, thick and keep your feet odour free.
If you are you looking for an elegant cover-up, then you come to the right place.
This navy color block cover up is made of pure cashmere fiber.
It will provide you warmth and comfortable enough that you can do your household tasks easily.
Cashmere garments deliver more insulation and that will surely help in cold days.
This elegant and simple designed poncho top is wearable both up and down.
Made with pure cashmere fiber is so warm and soft that goes with everything.
It provides warmth quickly and leaves your arms allow you to do your works.
---
Don miss to read: Why is cashmere poncho so graceful and pleasant for wearing?
---
It can be easily pulled over your neck if necessary, that will keep your head warm.
You can wear it under your coat and no doubt it will enhance your look.
A nice piece of cloth with superior quality wrapped over your body gives you an extraordinary feeling and comfort.
This ruffle top is knitted with the Italian flawless design and craftsmanship.
This top has black and ruffle round design of neck, short sleeves having black and red ruffle, ribbed edges that are enough to give a perforated detail at the rear and the front of this outfit.
This unique winter garment is designed with cable knitting and swing dress design.
Having ribbed turtleneck with long sleeves enough to protect you from cold and no doubt it will be showy in winters.
This cashmere jumper is made with fine quality of wool and cashmere.
You can find tons of options after landing on the shopping websites of the UK but this item is also excellent with its high quality texture.
Scarves need no time to wear, just wrap it around your neck with different ways and it is easily combine with your outfits.
A scarf made with pure cashmere fiber will give you enough insulation to stay snug and warm when needed.
This scarf is knitted with pure cashmere fiber and the softness of this material will gives you extra comfort and cozy feel.
This unlined, finger trimmed scarf is reversible will make your look complete and sophisticated.
A well designed poncho made with pure cashmere fiber will add a new style statement with your personality.
It can easily go with most of the wearable and will give you an extreme fashion forward look.
This white colored pure cashmere poncho with leather tassels will make your look stunning.
Complete your look adding this poncho in winters that is enough to give better insulation and warmth in winters.
This elegant piece of garment is made of 100% cashmere fiber.
Rounded neckline sweater having amber skull design in the back will provide you more insulation and keep you warmer compared to the sweater made from the regular sheep's wool.
Cashmere garments are known worldwide for its excellent quality and texture. This garment is enough to provide extra warmth and will give you a unique style statement and comfort to your everyday wears.
Here I am winding this list with this eye catchy and funky cap for winters.
The pure and luxurious cashmere knitted cap is enough to give warmth during the cold.
Its stretchable feature make it fit and provides best insulation.
This hat includes two black furry and cozy pom poms with one on its top.
Take this winter accessory on the go, no need to think about the combinations.
Just wear it and make trips around the streets, no matter how cold is the weather.
Conclusion
Garments made using pure cashmere fiber are no doubt luxurious and comfortable. But the length, texture and color all these elements affect its manufacturing and cost. Quality of the wool's fiber is also depends on the diet of the goats and the region from it is collected.
Suitable conditions for manufacturing best quality of cashmere wool find in the Mongolian region. Although, cashmere fibers are the best natural fibers after processing and knitting gives best results and insulation than the general wool.