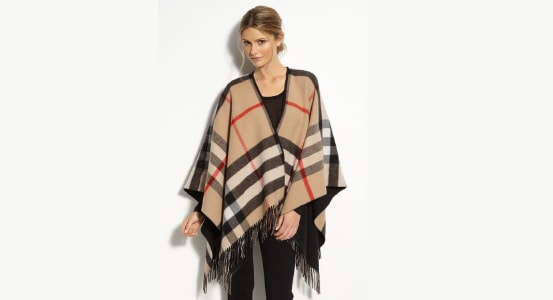 There are many things that make a girl look graceful and ultra feminine: high heel shoes, the long silk dress, high-waist belted pants and the cashmere poncho.
However, the last one on the list is somewhat ignored, compared to the other items enlisted here, and that is a pity, as it perfectly completes any outfit, making it look special and precious.
Cashmere is all about the feeling.
Try a cashmere poncho on and you can see the difference from regular wooly ponchos.
First of all, it's much softer and smoother.
You instantly relax and get the warm fuzzy feeling that you don't get when you put on a regular type of wool.

More to that, wool usually produces an itchy sensation and it might irritate your skin.
Cashmere is so soft that it cannot produce irritations or allergies.
It also keeps you warm without being too thick and poofy, therefore it doesn't misshape your body.
Cashmere ponchos can successfully take the place of other clothes, like sweaters, cardigans, coats and jackets.
---
Related reading: 21 Gorgeous Women's Cashmere Sweaters Under $200
---
One poncho can make ten outfits look better than they normally would if you combined them with a regular piece like a coat or a sweater.
It brings a touch of chic to any look, no matter what style you're into.
For example, if you're into office clothing, you can spice up your day-to-day outfits by wearing a cashmere poncho.
You can choose a soft color, to emphasize your femininity, or a bright color, to break the monotony.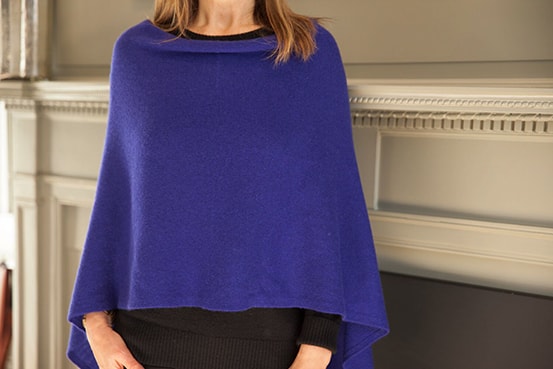 If you want to add more elegance to your outfit, a cashmere poncho in a dark color, like black, grey or marine blue, or in a neuter color like white or beige, is a must have in any season.
On the other hand, a casual look can be taken out of anonymity with the help of a soft, comfortable poncho.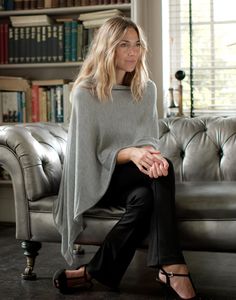 The great thing about cashmere ponchos is that they are suitable for every age.
You can find a sweet baby poncho for your little one.
They are small enough not to prevent her from moving freely and soft enough to keep her warm all day long.
More to that, babies love to wear colorful ponchos, especially when they come with little fringes or pompons that attract their attention and make cute toys for them to play with.
If you have a teenage girl, you can find a pretty girls poncho that she can wear both in school and during their free time.
You can match them with the color of the uniform or choose a bright colored one, to make her feel optimistic and active all day long.
There are also models for adults, in any color and pattern you can think of, suitable for any age or style.
Therefore, you can find the perfect poncho for yourself or make a great gift to one of your friends or to a member of your family.


Want to Know Even More About Cashmere?
Get the latest cashmere trends, news, and best deals on your email.